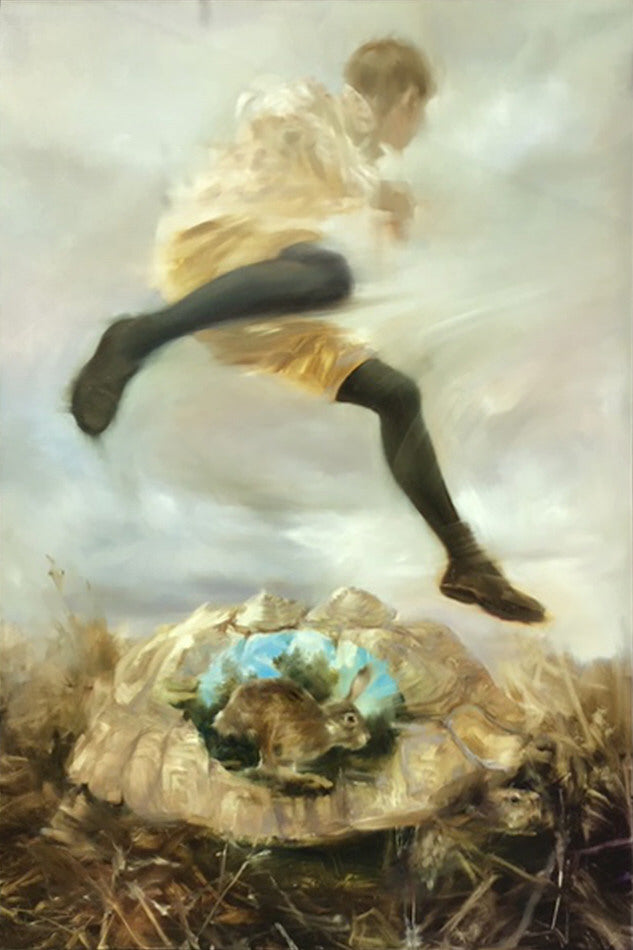 Terrapin, Rosin, Brush Fire Fable
Sarah McRae Morton's paintings are steeped in stories. Stories drawn from her familial heritage, folklore, historic curiosities, artistic anecdotes, all woven beautifully by McRae Morton's deft hand and skill with a paintbrush. Her often surreal oil paintings blend reality with mystery and fantasy, and reveal her mastery of her medium. Figures appear blurred as if in motion without losing any integrity of form or clarity. Subjects are pulled from centuries past, or are transported to landscapes and interiors that represent another era. McRae Morton's skill as a painter is breathtaking, and her ability to convey narrative and emotion allow viewers to be swept up in the moments she shares.
Terrapin, Rosin, Brush Fire Fable is from Sarah McRae Morton's 2020 exhibition, The Barnacle and Belfry. The artist states: "The paintings were dreamt up during a practice of climbing the bellower of a cathedral in Germany- a training regimen to prepare to hike in the Rockies this spring, but also a meditation during a spiral clockwise ascent. DNA came to mind, the geologic stories encrypted in the stone of the tower came to life, and the history of building cathedrals in Europe became of interest- particularly the fits and starts that resulted from times of war, plague, and cataclysmic weather."