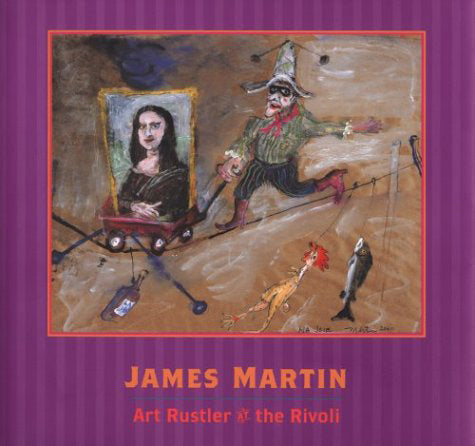 Art Rustler at the Rivoli, James Martin Book, 2001
James Martin started his career the same way a lot of aspiring painters do ― by imitating other artists. During the 1950s and 60s, he nabbed imagery and mannerisms from Mark Tobey, Morris Graves, van Gogh, Picasso, Chagall, and Calder. But the real source of Martin's mature style isn't buried in the mysticism of the Northwest School or the avant garde trends of European Modernism: it traces back to his days at Ballard High School during the 1940s. He and a buddy used to cut class and head downtown to the Rivoli Theater on Seattle's First Avenue to watch the burlesque.

The surrealism of those shows percolated into Martin's psyche and his paintings ― once he started to trust his own view of things ― began to sprout the ambiguities of burlesque and the black humor of slapstick. Now when Martin paints a Northwest scene, it's likely to be peopled with freaks and floozies. He stays up nights listening to the radical opinions on Art Bell's radio talk show and he considers the Jerry Springer show a new form of vaudeville. Martin transforms the daily input of the media into the wild stream-of-consciousness of his paintings ― for him both a compulsive kind of storytelling and a way of escape. Like his heroes in the Northwest School, Martin still considers art-making a sacred endeavor ― but he figures there's no reason you can't get a good laugh out of it, too.

In unearthing the story of this under-recognized painter, art critic Sheila Farr presents a fast-paced account of the strange turns of Martin's career, as well as a fresh look at our standards for evaluating art. Martin's swashbuckling approach to imagery, she discovers, was way ahead of its time. Using costumed self-portraiture and outrageous marriages of art-historical images with pop culture icons, Martin was Post Modern before the term was invented.
120 pages