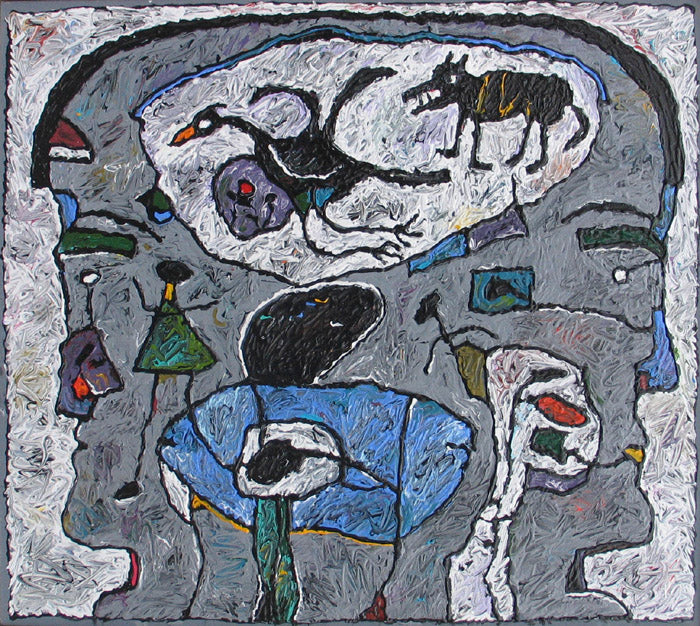 Audubon's Dream
Alden Mason's artwork spans an inspired range of styles and approaches. Because Mason never stopped exploring, his paintings evolved and shifted throughout his career. Perhaps best known for his oil paintings of a particular style that came to be known as "Burpees," Mason nonetheless was prolific in acrylic on canvas, on paper, and in other media. Gestural and narrative, some of Mason's work features loose, abstracted figures, often just outlines, foreground and background melding. Mason taught painting at the University of Washington for over 30 years, while maintaining his artistic practice, painting profusely, daily.
"Audubon's Dream" seems to align itself with Mason's "Big Head" series that he focused on following a trip to New Guinea in 1989. These paintings feature a large, bulky head occupying large portions of the canvas, often in profile and sometimes (as here) in a Janus or twin presentation. "People ask, `Why heads?' " said Mason [at the time]. "Because everything you ever think, or dream or fantasize about, it's all in your head." (Robin Updike, "Inside Alden Mason's Head," Seattle Times, Sept. 28, 1995). In this case, we also have a black 'spirit bird' inside the head. These birds, also originating from his New Guinea trip, served as a metaphor for the artist: when a mysterious bird interrupted a tribal story late one night, it signified a warning against telling tribal secrets in an outsider's presence. Perhaps equally significant, John James Audubon's portrayals in The Birds of America (1827 - 1838) revolutionized the depiction of birds in natural poses with realistic backgrounds. The presence of a black dog inside Audubon's head appears to menace the spirit bird, which spreads its wings to take flight.

"Audubon's Dream" is presented in a minimal wooden frame, no glass. The frame size is 33 x 39 x 2 inches.